After the change in the Google Algorithm I thought I would do my bit and do a bit of extra Hubbhopping.

I really don't want to be overzealous in flagging hubs so I was just after some clarification as to what constitutes a spammy hub or a hub seriously short of content.

Just Hubhopping lately and about 70-80% are either spammy or around 200 words of text and nothing else.

It's like invasion of the spam bots!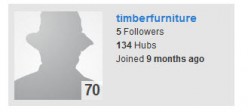 Here's someone who's been on hubpages for 9 months has no profile image yet has 134 hubs? What gives?