Howdy folks. I am writing to you because I am hoping to find some assistance. I went through the install as requested, and it appeared to have worked, however, I never got an email or any indication that the setup was acknowledged by google adsense.

I went back to try to resetup Adsense. And I did the following: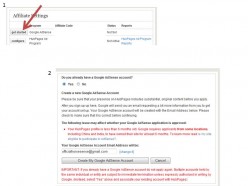 1. Get Started
2. Do you have an adsense account?

At this point, there were no options with respect to re-submission. When I return to #1 (in image), it still says that Adsense is not setup.

What do I need to do to get this fixed?