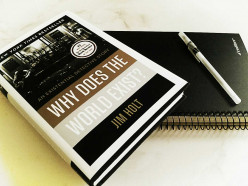 Last night, I came across a paragraph in the very first page of a book titled "Why Does The World Exist?" by Jim Holt, which puzzled me for hours.
I wrote a Hub about it, which you can find here: http://kfusha.hubpages.com/hub/If-There … -Forbidden
But now I am interested in hearing your perspective, your interpretation of these sentences. The paragraph reads as follows:

"Suppose there were nothing. Then there would be no laws; for laws, after all, are something. If there were no laws, then everything would be permitted. If everything were permitted, then nothing would be forbidden. So if there were nothing, nothing would be forbidden. Thus nothing is self-forbidding. Therefore, there must be something. QED."

In your opinion, is this statement plausible? If yes, why? If no, why not?