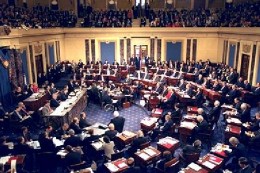 Ultimately it's how a president react to the unforeseen.
Every person elected goes into office with the mission of fulfilling their (party's agenda). The opposition party's goal is to block that agenda.
After all they wanted their candidate to be elected president.
In the best of times there is room for diplomacy.
However the opposition party doesn't want to make a sitting president look so good that people are incline to reelect him or her.
Gridlock is a way of life in American politics. Party loyalty beats the public good most of the time in the eyes of politicians.
In fact there are many people who view compromise and diplomacy as weakness! They don't want very much bi-patrician efforts.
The punishment for doing so can keep a candidate from winning their own party's nomination during the primaries.
In fact a lot of folks don't want to see (one party) have all the power in the white house, senate, and congress. Usually there is a "correction election" in instances when a president takes office and their party is in power.
Soon afterwards a Republican president is saddled with a Democrat congress or a Democrat president is hobbled by a Republican congress.
Therefore it's the president's reaction to the unforeseen: natural disasters, threats of war, terrorism, economic meltdown that people use as a measuring stick to determine if the president was good or bad. For others it comes down to how well (they) are doing.
The happier one is with their life the better they feel about the state of the union in most instances. There are those diehard party loyalist though.