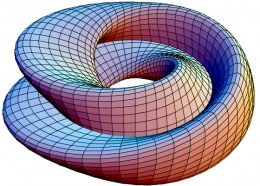 nobody knows the shape of the universe - since the very word by definition means everything, how can there be something outside itself? Theories are like a$$holes, everyone had one. It could be a saddle, hypersphere torus, klein bottle, positively-curved, negatively-curved, and flat.

Then there are theories about multiverse (or meta-universe), branes, super strings, 23 dimensions, and the list can go on...quilted, inflationary, cyclic landscape, Quantum, holographic simulated and ultimate

In an infinite universe, anything is possible, including hot buttered waffles growing like leaves on a tree.