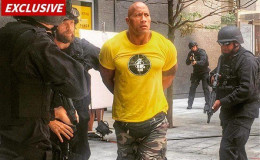 Honestly, no one.

Why would i want to spend a vacation with someone I don't know, probably don't have much in common with and probably who would never want to vacation with me.

Really, it is highly unlikely any celebrity is the person you may think they are. A vacation is something to share with family or friends, people you know well, NOT strangers no matter how "well known" they may be. Who daydreams anyway what it would be like to be BFF with a celebrity? How is that possible, unless the celebrity is a relative or friend already whom you know well. To daydream what it would be like to be BFF with a celebrity really demonstrates just how shallow and unrealistic society has become through social media, the internet and frankly idol worship.

But on the other hand I suppose you'd say there is no harm in daydreaming. Or is there? I think too much of that may be harmful.

And, in today's perilous world with politicians mortgaging your children's future away daily, terrorism at our doorstep, morality disappearing from the fabric of this country isn't there more important things to think and talk about as opposed to fostering fantasies as an escape from the pressing reality we find ourselves in? Go to a movie, keep the celebrities where they belong and when you dream of vacationing make it about you.