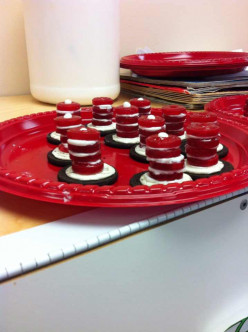 Feeling creative these days?!
In honor of Dr. Seuss's birthday this past year, I made some very familiar looking hats!

Here's how to make them!

What you'll need:

-Oreos
-Red Lifesaver Gummies
-White icing

How to put the hats together:

1. Pull an Oreo in half. Use the side with the icing.
2. Put some white icing on the Oreo.
3. Put a red gummy on top of the icing.
4. Repeat steps 2 and 3 until you have achieved the length that you would like for the hats.

These make wonderful crafts for children! They're very fun and also delicious!

Enjoy!!