Acorn Squash

A small to medium sized acorn-shaped winter squash that comes in various sizes, shapes, and colors. The easiest way to prepare this slightly sweet nutty-flavored squash is to cut it in half, remove the seeds, and bake. Select firm, unblemished squash that feel heavy for their size.

You can store cut acorn squash in a zip lock bag in the refrigerator for about a week. You can store these squash uncut in a cool dark place for up to three months.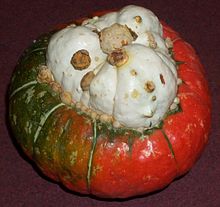 Above is the Turban Acorn Squash which is used for cooking and for decoration.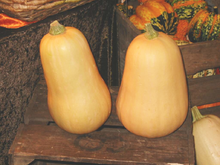 Here you have Butternut Squash Which Is A Acorn Squash. These are great split in half and then you add sugar and butter in the cavity and bake them. This was a squash that was used by the Native Americans.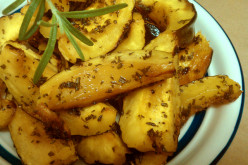 Here we have Grilled Acorn Squash With Rosemary

Grilled Acorn Squash With Rosemary

1. Two Tablespoons Olive Oil, divided.
2. One Fourth Cup Red Wine Vinegar.
3. One Tablespoon Fresh Rosemary.
4. One Tablespoon Fresh Minced Garlic.
5. One Teaspoon Ground Sea Salt.
6. Two Pounds Acorn Squash Peeled And Seeds Removed And Sliced Thin.
7. Garnish With Fresh Rosemary Sprigs.

Combine one tablespoon oil, vinegar, and next three ingredients in a heavy duty zip-lock bag. Add your squash to the bag. Marinate three hours in the refrigerator.

Remove squash from the marinade and reserve the marinade. Brush the squash with the remaining tablespoon oil.

Cook squash, covered with grill lid, over medium heat ( 350 to 400 degrees ) about 10 minutes on each side. Place on a serving dish and drizzle with remaining marinade. Cover and let set 10 minutes before serving. Garnish with fresh rosemary.

My Grandparents always grew Acorn Squash and I loved it in the winter months cut in half and baked with butter and sugar. Its delicious that way.

Have You Ever Had Or Cooked With Acorn Squash?