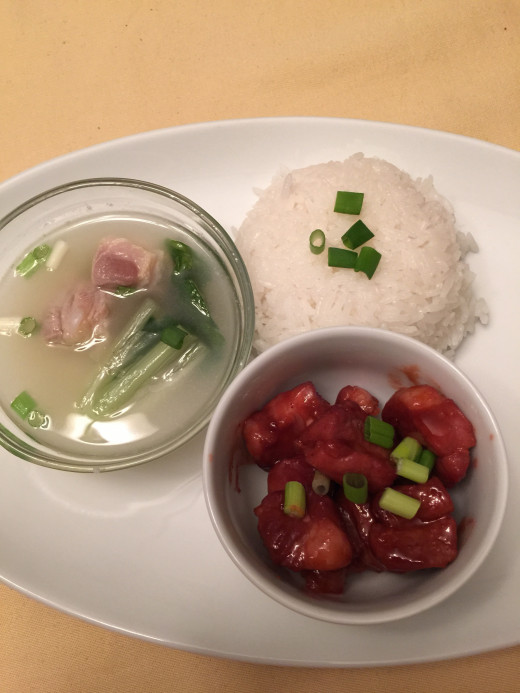 Our dinner tonight consists of a light soup made with ribs and greens, a side of BBQ riblets served with white Jasmine rice.

Soup:
Cut up some ribs into an inch sized chunks
Roughly chop up a large clove of garlic
Selection of greens that will taste great for this light soup: baby bok choy, kale, large leaf spinach or Napa cabbage
Scallions

Put ribs and garlic in a pot with water and bring to boil. Once boiled, turn down heat to simmer. Add salt, black pepper and a little bit of fish sauce to taste. Remember to avoid putting too much at once! You can add but it's more difficult to take it away. It should be just slightly flavored and not salty. Once ribs is fully cooked, add in your choice of greens and turn off the heat. Before serving, sprinkle with chopped scallions - enjoy!

Chinese-inspired BBQ ribs:
Cut up ribs into an inch-sized pieces
A piece of ginger - you can slice or dice it or just smash it
Hoisin sauce
Sriracha chili paste
Red Chinese Char Sui mix - this is optional
Sugar
In a deep pan, put the ribs in and brown them on medium/high heat. Then lower heat to medium/low to finish cooking. I don't use any oil since the juices and the oil from the ribs will be sufficient. Allow to sit to fully cook and stir every few minutes to turn the meat. Toss in the ginger, hoisin sauce, chili paste, Chinese char sui and a teaspoon of sugar. Toss everything to mix well and simmer a few more minutes to allow flavoring of the ribs. Before serving, sprinkle with chopped scallions - enjoy!