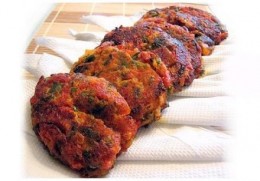 The photo above is Santorinian tomato-balls.
Does it sound bad to say I love all of it? I don't know from where to start? Ok lets go with appetizers. I will try to limit myself only with three favorites.
1.Feta in the oven with oregano, onion, green pepper and olive oil.
2. Shims Saganaki.
3. Santorinian tomato-balls.

For main dish I love;
1. Kleftiko(lamb,veggies and cheeses in paper cooked in the oven),
2. Stifado (veal with small baby onions in red sauce),
3. Moussaka.

For dessert;
1.Baklava,
2.Galaktobureko (milk and pastry),
3.semolina cake.

Now comes time for the wines: Santorini island have very nice wines, from very sweet (Visanto) to very dry like Boutary or Nektery.