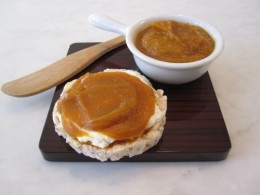 1. Two Cups Of Pureed Pumpkin
2. One Teaspoon Cinnamon.
3. One Level Teaspoon Nutmeg.
4. One Fourth Cup Of Honey.
5. One Tablespoon Lemon Juice.

Put the ingredients in a small sauce pan and cook until it boils stirring very often. Pour out into a covered dish and allow it to set in the refrigerator over night. It will be excellent on toast or muffins. Hope you enjoy it.