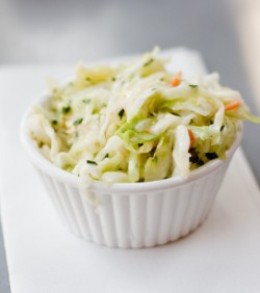 Houston's Cole Slaw – this is a delicious way to make slaw.

Houston's Cole Slaw
Author: CopyKat Recipes
Recipe Type: Salad
Prep time: 10 min
Cook time: 10 min
Serves: 1
Houston's makes a very unique cole slaw, and now you can make this treat at home.
Ingredients

5 cups chopped cabbage about 1/4"x1/4" (not shredded)
1 cup chopped parsley tops (medium - small pieces should not be larger than the cabbage pieces)
1/4 cup chopped green onion tops ( use just the tops )
1/4 teaspoon salt
1/4 cup mayonnaise
1/2 cup sour cream
1 tablespoons honey mustard
1 1/2 teaspoon white vinegar
1/4 teaspoon salt
1/2 teaspoon sugar

Instructions

Blend and stir first three ingredients add salt and stir well, set aside. Mix all remaining ingredients very well and pour over cabbage mixture. Fold in dressing so all is coated. May be served immediately or will keep in refrigerator the next day. We find this a very gentle and fresh tasting cole slaw. This slaw enhances your main course and does not over power it.