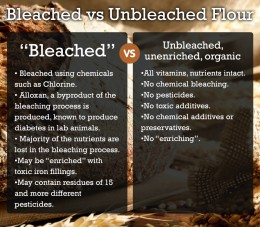 Yes. These are some chemicals used in bleaching, Here's the damage that they can do.

Potassium Bromate – Classified as a complete carcinogen, causing tumors to form and grow in the kidneys, thyroid and mesothelium of all mice when tested at various level of drinking water. Lesions were found when the potassium bromate levels were as low as 1.5mg per day. (source) Potassium bromate is nephrotoxic in humans, meaning it has a poisonous effect on the kidneys when it's taken orally. (source) It's banned from being used in food in the European Union, Canada, Nigeria, Brazil, Peru, Sri Lanka and China. In the U.S., bromate was approved to be used before 1958, when law was created to ban potentially carcinogenic substances, so the FDA now urges bakers to voluntarily stop using it.

Benzoyl Peroxide – During processing, benzoyl peroxide is almost always converted to benzoic acid, which in most cases isn't harmful. However, it could be unpleasant for those who have a digestive system that isn't in good working order. When the stomach is more base than acidic (leaning towards black coffee instead of lemon juice), absorption of benzoic acid decreased the natural breakdown and fermentation of glucose (the sugars that our bodies need to function properly) is decreased by 95%. (source) Researchers have also speculated that benzoyl peroxide may interfere with how the body converts linoleic (omega-6) and linolenic (omega-3) acids. How the addition of this chemical effects other essential nutrients found in flour, i.e. vitamin A, thiamin, riboflavin,etc. is still not known.

Calcium Peroxide – I wasn't able to find much on calcium peroxide, but it is listed on an Australian food additives guide with the following next to it: synthetic, bread enhancer, bleaching agent for flour, asthmatics and people with a history of allergies BEWARE. Yes, "beware" is in all capitals on the list. Maybe that's why it's banned in the European Union, Australia and New Zealand? It's on Whole Foods's "unacceptable ingredient" list , and it's listed as an ingredient in the world's oldest hamburger. Even without additional research, that seals the deal for me!

Chlorine Dioxide – This chemical completely destroys any vitamin E that remained after the milling process and slowed growth rates over multiple generations. (source) The FDA lists chlorine dioxide as a toxic substance, although it must be proven that it is harmful before it can officially be banned.