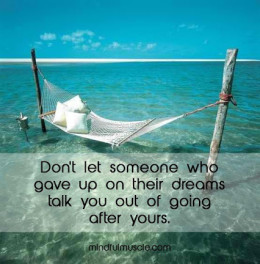 DKs all the way! (Dream Killers!)
Over the years I have come to realize it was not their intention to be spiteful but more or less it was the result of limitations they had on themselves. They grew up in an era where there was less opportunities. Anything beyond going to school to get a "good job" was an unrealistic fantasy and a waste of time in their eyes.
This was especially true if you were interested in sports, entertainment, arts, writing, or owning a business.
They couldn't see it for themselves and therefore could never imagine anyone from their lineage to accomplish such lofty goals.
If they hadn't witnessed with their own eyes they would have said a black man would never get elected president of the U.S.
One of the biggest challenges for a lot of people is shutting out naysayers who happen to be your parents or family members.
Ironically strangers are less likely to discourage you from pursuing dreams. One would think family would be the most supportive.