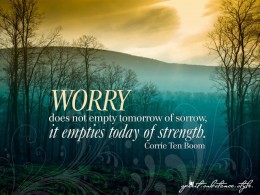 A state of feeling "anxious" or worried about what could happen.
Sometimes we put too much emphasis on trying to be perfect or wanting perfection. We worry about looking foolish or having things go wrong which we have no control over.
This type of thinking robs you of enjoying "the now".
Do your best, be yourself, and let the chips fall where they may.
Imagine being at the beach on a sunny day but instead of enjoying it you're stressing out because the weather man said (tomorrow) it's going to rain. Let tomorrow take care of itself!