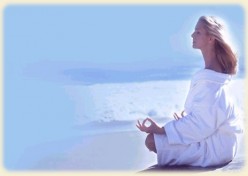 It is said that the deeper the meditation, the deeper would be the healing. The mind and body are intimately connected, and the relationship of the mind to the body in meditation is very interesting. The mind creates a situation in which we see the body as peaceful and beautiful. By creating peaceful feelings in the body, the mind is absorbed in those feelings. So although the body is the object to be healed, it also becomes the means of healing the mind which is the ultimate goal of meditation.

Spirituality Meditation?

In practicing meditation, we learn to experience many kinds and levels of spiritual growth. We can progress to ever-higher levels of spiritual maturity and strength. According to some religious
traditions, such as those found in the Hindu and Buddhist faiths, meditation is necessary in order to attain the highest possible state of being: Nirvana. This is basically the equivalent of what is known, in the Christian tradition, as salvation.