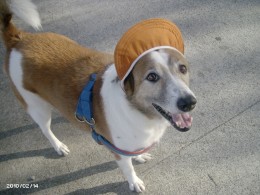 This is my 10 year old Mario Peso, he is a Philippine Local Dog, He is a perineal hernia survivor that have undergone six surgeries, he may still need another one but since his hernia is not complicating his other organs and he can eliminate well, his vet said that he may not need to undergo another repair...

If you look at Peso now you can't imagine that he actually had several surgeries... at 10 years old my dog is still very playful and clever. He is a smart dog too, and I admit I am really that crazy for him.

In my country not all people appreciate Peso's breed because they are breed conscious, now I am showing them my advocacy that regardless of breed, I will take care of my dog as if he is the most expensive dog breed in the world.. Please see my dogs and visit my hub...