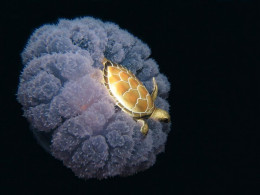 Although these are somewhat imperfect they do indeed provide a rhyme effect with purple. Indeed the best and most perfect is the Scottish word "hirple" mentioned by brilliant Meg.
However, do not discount a creative-fix by using these: "burble" or nonverbal or perhaps significantly multi-syllables/words; box turtle, arctic cycle, alligator snapping turtle...
My choice would be to pair, purple with an alligator snapping turtle with a most significant hirple...