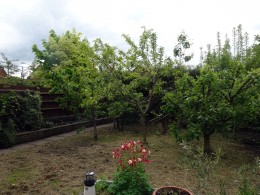 It depends on what land you have available; as R Talloni said, it largely depends on the scale of orchard you want to develop. I can only speak from personal experience of what we did when starting a small Orchard in our garden.

Our back garden is 30 ft. wide and 100 feet long; which for an urban garden in Britain is a reasonable size. We divided the garden into two equal sized garden rooms, divided by a hedge of shrubs; the far end is our vegetable plot, wildlife pond, greenhouse and sheds. The garden nearer to the house was initially our lawn area; it was this part of the garden (at the far end of the lawn) where we decided to place a mini Orchard, choosing fruit trees with 'dwarf' root stock.

In a small garden like ours using 'dwarf' root stock is vital, otherwise one normal sized fruit tree would just dwarf the whole garden; albeit the fruit trees still need regular pruning to keep them in shape and small and let in plenty of light and air. The beauty of such small trees is that you can get a number of them in a small area and reach a lot of the fruit without having to stand on anything or use ladders. At the bottom end of the lawn about seven years ago we planted six fruit trees (all with dwarf root stock) about 10 feet apart, in two rows of three; a pear tree, eating cherry (as opposed to cooking cherry), a peach tree suitable for the UK, two plum trees because one needed a companion for pollination, and an eating apple tree. The difference between cooking and eating is that fruits grown for cooking are less sweet.

It pays to do some research before choosing your varieties because some fruit trees are self-pollinating and some require companions for pollination. The pear tree we bought has three different varieties of pears drafted onto a dwarf root stock so that cross pollination can occur on the one tree.

Now that our mini orchard is well established (dependant on weather) we get plenty of fruit from all the trees, and have a glut of fruit for a couple of months each year; giving us surplus to freeze or preserve and to make fruit wines.

Attached is our mini orchard viewed from the decking in front of our conservatory.