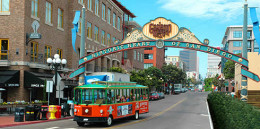 I suspect you are referring to major metropolitan areas along the lines of Detroit looking for ways to revitalize downtown areas.
Many years ago San Diego California's downtown area was filled with homeless people, decaying buildings, and criminal elements.
The city was cleaned up, businesses were given tax breaks to locate there, upscale housing and loft apartments were built along with several hotels and restaurants. Today downtown San Diego and the Gaslamp Quarter are destinations for tourist who visit San Diego as well as others who live in the area seeking a fun night.
Having said that some people dislike the idea of rising real estate values that make it impossible for those who use to live downtown to remain downtown. A realtor buys an old apartment building where people may have been paying $600 for a one bedroom apartment and then the company tears the building down and rebuilds a 24 story building complete with a penthouse units and state of the art amenities. They now charge $1200 for a studio apartment and $1500 for a one bedroom apartment. The old tenants of the former building can't afford to live in the area anymore.
Personally speaking I grew up in a time where "downtown" was a destination filled with excitement, theatres, restaurants, hotels, roving taxis, and major department stores with large groups of people strolling the sidewalks. It was depressing to see buildings decay and stores leave downtown areas in favor of suburban malls.
I'm in favor of revitalizing metropolitan downtown areas with tax incentives. Downtown should be (the heart) of any major city.