JSChams is a sham. won't get anywhere with him.

I understand that voting a third party gives the opposition an advantage. It doesn't have to be that way if it was 1 person= 1 vote. Presidential electoral election is a travesty of democracy. I thought I could write in Ron Paul on my Arizona ballot but it wouldn't even count.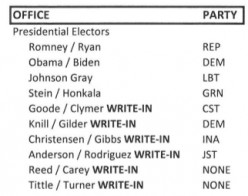 But I found out there is only a few states that a Ron Paul write-in vote will count, : AL, IA, WI, PA, CA, VT, NH, DE, RI and MAINE,

In all other states the Ron Paul write in would be a useless vote and besides Romney's trap is to have people do a write in campaign for Ron Paul which would take votes from Obama. So I'm going to stick with the choices I was given and not write in my namesor Ron Paul's because "none of the above" would be considered a spoiled vote. ( They are never going to count it!)

How about a King of Pirate vote? Where everybody votes for themselves and nobody wins.