Fifteen years ago, a minor niche within the legal business, hundreds of foreign investors have sued more than half of the world's countries, claiming damages for a wide range of government actions that they say have threatened their profits.




The International Centre for the Settlement of Investment Disputes (ICSID) and similar venues in London, Paris, Hong Kong, the Hague, et al is where a foreign investor can force a government to change its laws to please the investor as opposed to the investor complying with the laws they find in the country. The sums awarded in damages are so vast that investment funds have taken notice: corporations' claims against states are now seen as assets that can be invested in or used as leverage to secure multimillion-dollar loans. - https://www.theguardian.com/business/20 … ttip-icsid


ICSID registered 80 cases during the first 34 years of its existence, from 1966 to 2000. In the 14 years since then, it has registered 418, including nearly 200 cases currently in arbitration. In the last decade, the number of cases involving oil, gas, and mining companies has dramatically increased. Today, close to half of cases pending before ICSID tribunals are related to natural resource disputes. There is no appeal process at ICSID, only an annulment process through which the procedural legitimacy of the tribunal can be questioned. Governments and companies alike in recent years have begun urging ICSID to create an appellate process.- https://www.beaconreader.com/climate-co … ental-laws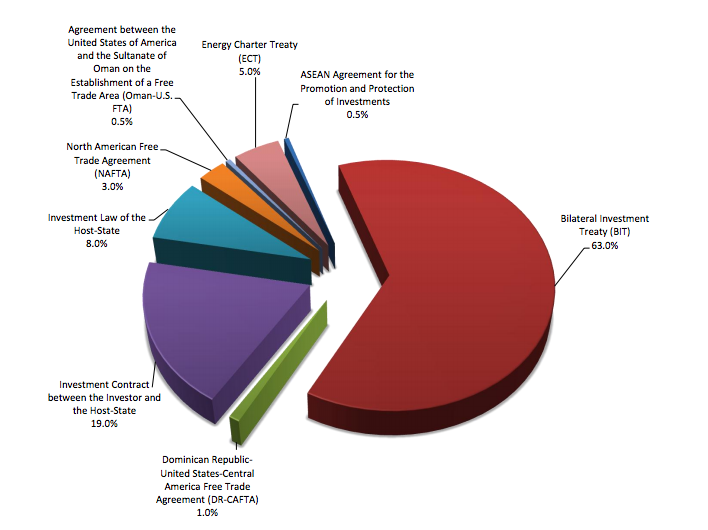 So why do countries accept trade deals with this blatantly pro-corporate mechanism? The argument goes that without this provision, there would be a serious lack of foreign investment. There may be some truth to this, but other cases show that it is quite exaggerated. Brazil, for example, has never agreed to a trade deal with ISDS provision, and they continue to receive plenty of foreign investment. Private corporations should not have the option of suing a nation whenever they feel like a rule or law has effected their profit rate. This is simply a part of doing business; an inherent aspect of capitalism. Investing is never risk-free; there are natural, social, and political changes that could always hurt an investment. More importantly, when a company's product is hurting people or the environment, government has the right and obligation to stop it. - http://www.dailykos.com/story/2015/2/11 … For-Profit

For USA,
15 cases as respondent state
138 cases as home state

https://icsid.worldbank.org/apps/ICSIaD … fault.aspx


http://www.uncitral.org/uncitral/en/unc … rules.html


http://investmentpolicyhub.unctad.org/ISDSg]






Tell your Congressional representatives: by visiting https://act.350.org/sign/congress-tpp/

I oppose the Trans-Pacific Partnership because it is a threat to our climate and our democracy. Vote NO on Fast Track legislation that would allow this bad deal to move forward.