OK, I understand that the election news cycle is dominating the news, but I see NOTHING in BBC, Reuters or Google News - unless I actively look for it. Isn't that in itself a sign that something seriously is going wrong?
#1 America doesn't want to be reminded of the genocide of First Peoples, stolen most of the land and shut them up on tiny reservations.
#2 If America does talk about #1 , it's in the context of past reference and how now so much more civilized today and don't do that any more.
#3 It seem the United States are still taking with impunity from the people and mainstream media is not talking about. We know more about Aleppo and Daesh 6k miles away then what is happening within our own country. Doesn't that seem odd to you? People are being arrested, maced, shot and caged for peacefully exercising their first amendment right to protest only 1,034 miles from your home.

-Call North Dakota governor Jack Dalrymple at 701-328-2200
-Donate at http://standingrock.org/news/standing-r … tion-fund/
-Donate items from http://sacredstonecamp.org/supply-list/

Go to:
http://www.bioneers.org/five-ways-suppo … th-dakota/

to connect to the following links that I can't do here on this forum.

JOIN. As Tara Houska notes, all are welcome to the frontlines at the Oceti Sakowin Camp.
SHARE. News is coming out directly from the Sacred Stone camp on a daily basis. Sharing it far and wide with your networks is a way to increase critical visibility for this issue.
COMMUNICATE. If you want to reach out to your elected representatives and the Army Corps of Engineers, here's how.
SUPPORT. Both Sacred Stone, the original prayer camp, and Red Warrior, a direct action camp, are providing hot meals and supplies to those on the front lines.
DONATE. Both camps have separate legal funds. The RWC Legal fund is currently used to hire attorneys to fight felony charges and the SSC Legal Fund is being used for bail.

BTW: Continued construction onto BLM - WITHOUT permits is being done TODAY.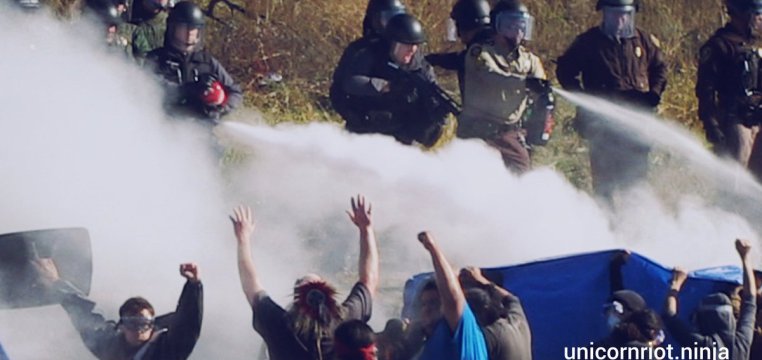 If the above picture was black people there would be nation wide protests because the major news media would be broadcasting constantly about it. So why the total news blackout on the water protectors who are praying - not protesting - who are brutalized and arrested form trespassing on their own land?

The Dakota Access Pipeline could have one single leak and destroy water for thousands of people.

Stop Militarized Response to Standing Rock Water Protectors. Sign this petition @
https://www.change.org/p/president-obam … protectors





http://theantimedia.org/native-american … -blackout/
Why There's a Media Blackout on the Native American Oil Pipeline Blockade?
The first point is actually very simple: Native Americans standing up for themselves is not polarizing. In an age of institutionalized media divisiveness and hyper-partisanship, the story of Native Americans in North Dakota fighting for land and water rights just doesn't fit the script of deep, societal divides plaguing the nation's law and order, nor does it fit in with the left-right paradigm. People from both sides of the political spectrum pretty much agree that Native Americans have been screwed by the U.S. government and resource-snatching corporations long enough. Considering this sentiment, there's really no exploitable controversy on this issue from the mainstream media perspective, which inherently drives topical, superficial news narratives.