The Fallacy of "Enforcement First" is that "only following orders", aka the Nuremberg defense, cannot be used to lesson punishment for knowingly complying with an 'blatantly illegal order'.

"Bad laws are the worst form of tyranny." - Edmund Burke 1775

Strong Rule Utilitarianism is an absolutist philosophical view and rules may never be broken. Like any absolutist view does not take into account that reality occasionally presents situations where breaking a rule results in the greater good. For example, the strong reductionist rule that murder is bad is countered by the exceptional example of murder is not bad if performed in self-defense or the defense of others. This result of practical application is reflected in what John Stuart Mill called Weak Rule Utilitarianism. - https://jonathanturley.org/2011/07/16/w … bad-law-2/


Arrested protesters put in bare dog-kennel Gitmo cages & a number written on arm for ID ala concentration camp style.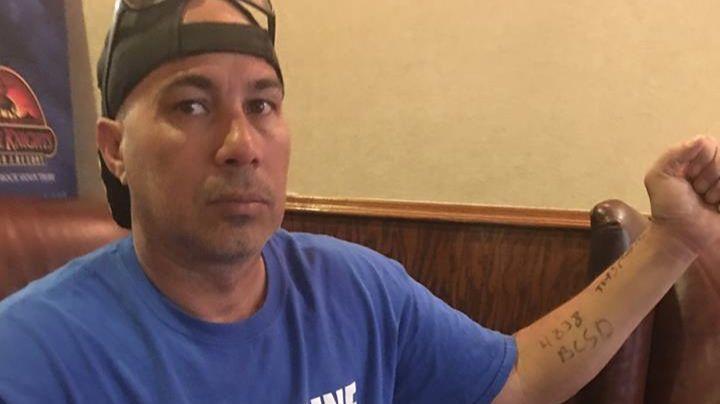 Mekasi Camp-Horinek with numbered arm

Amnesty International USA is now present at the Standing Rock Dakota pipeline protest to monitor the degree of force used in law enforcement.

"Where a small minority tries to turn a peaceful assembly into a violent one, law enforcement officials should protect the peaceful protesters and not use the violent acts of a few as a pretext to restrict or impede the exercise of the rights of a majority," - AI's letter to Sheriff Kirchmeier

UN Special Rapporteur Victoria Tauli-Corpus press release issued by the Office of the UN High Commissioner for Human Rights (OHCHR):

"The tribe was denied access to information and excluded from consultations at the planning stage of the project and environmental assessments failed to disclose the presence and proximity of the Standing Rock Sioux Reservation.

"The United States should, in accordance with its commitment to implement the Declaration on the Rights on Indigenous Peoples, consult with the affected communities in good faith and ensure their free, and informed consent prior to the approval of any project affecting their lands, particularly in connection with extractive resource industries.

"I urge the United States Government to undertake a thorough review of its compliance with international standards regarding the obligation to consult with indigenous peoples and obtain their free and informed consent. The statutory framework should be amended to include provisions to that effect and it is important that the US Environmental Protection Agency and the US Advisory Council on Historic Preservation participate in the review of legislation."


If want to heal the deep division of the country then don't enforce bad law. from http://thefreethoughtproject.com/5-reas … nt-safety/

Dear Cop: "Enforcing the law" is not automatically legitimate or moral. The most vicious tyrannies in history (under Mao, Stalin, Hitler, etc.) legalized their oppressions, which were then committed "law enforcers." Historically speaking, far more injustice and murder has been committed in the name of "law" than has been committed in spite of the law. And those who directly perpetrated evil have often used the excuse that they were just doing as they were told, just following orders, just doing their job.

The majority of U.S. "law enforcers" are no different, enforcing whatever decrees the politicians may enact, no matter how arbitrary or ridiculous they might be, and then trying to excuse their behavior using the classic cop-out, "Hey, I don't make the law, I just enforce it." You may have even used that one yourself. Just be aware that when you say that, you are essentially admitting that whatever the politicians tell you to inflict upon your fellow man, you will, without question. And that makes you the primary threat to humanity."

From https://leb.fbi.gov/2011/october/focus- … nforcement
If officers receive positive reinforcement after they perform certain actions, even illegal ones, they likely will behave similarly in the future despite organizational policies or prohibitions. {John R. Anderson, Learning and Memory: An Integrated Approach, 2nd ed. (New York, NY: John Wiley & Sons, Inc., 2000).}