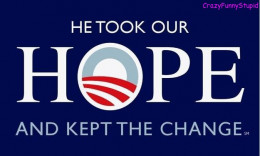 Well Don, don't you think the people who reelected BO must have felt he stood up and concentrated on doing what he promised to the ones who elected him?

Guess you're talking about the elected officials in the 2010 and 2014 elections, those the tea party and conservatives elected who once in office went out of their way to support Obama in their votes with a couple exceptions like Ted Cruz.

A good question and hopefully once we get a republican president with control of both houses we'll find out what the answer is, but that is hope and change of a different sort than Obama promised isn't it. His didn't work out so well, maybe...probably...of course... the Republican's promises won't either, but there is a slim chance that after this next election we will find out the answer to your question.

Let's just HOPE that this time it is the CHANGE the country wants and needs and not just a change in name only.