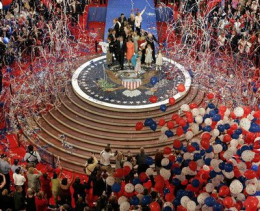 It's been said: "Politics is entertainment for ugly people".
Whether one buys into that analogy or not I have observed over the years that politics at the very least is a "spectator sport".
Republicans VS Democrats
I don't think the media has turned the presidential race into a "reality" show. I believe it's always been one. We just didn't have that phrase.
Speeches are given in convention centers and outdoor arenas.
Both parties make it their goal to slam the opposing party even going to the point of misrepresenting the truth. Both parties make unrealistic promises. Most people tune out all opposing views on issues.
There are bumper stickers, hats, and t-shirts with catchy slogans.
After the election one group is heartbroken and dedicates itself to plotting and strategizing ways to win the next election.
The party that wins has "bragging rights" even though it's actually congress that is the legislative body of government neither party is happy until their nominee is sitting in the white house.
There are 435 Representatives, 100 U.S. Senators, and 9 Supreme Court Justices. However there is only (one) president.
We've always had the debates, the stump speeches, photo ops, book promotions, and "fact check/gotcha moments". However in the past we didn't have social media and 24 hour news cable stations providing up to the moment notifications. If anything the media is exposing what campaigns have always been about. Winning!