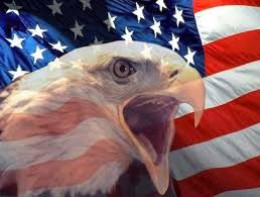 I remember singing a song by that title as part of a choral group in junior high. Of course, freedom isn't free. There are laws & by-laws which ensure our freedoms. To have an equitable society, everyone must contribute & take responsibility in order to ensure that there is a democratic society.

People also should realize that it takes interdependence upon each other to have such a society functioning efficiently. There must be an equality of paying taxes, not having some people pay while others slack off irresponsibly, believing that everything is owed them. Democratic societies run function on earnings, not handouts. In order for democratic societies to be free, there has to be a free market system which people are allowed to use their talents & abilities to create an economy which uses the utmost human potentials & yield mass results in terms of products.

A strong democracy must have a strong military. Without a strong military, there would be no freedom as there are some nations who will use force to conquer & subdue those whom they deem to be weaker. Furthermore, a strong democracy has limits as to what it will & won't tolerate regarding economic status. A free society realizes that there should be limits on social programs as such programs are dependent upon tax monies. Too many social welfare programs will end up bankrupting nations. The United States has gotten progressively worse since the increasing implementation of social welfare programs in the 1960s.