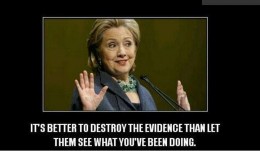 lol she'll fall down, again, long before she'd ever step down.

Really? Do you even think a tyrant like her would ever step down after acquiring power? No matter what the case may be, she could stand in the middle of Madison Avenue and shoot someone and she'd never step down.

There are a few things (one's called Martial law, another destroy the evidence, blackmail the investigators, a pardon by Obama, etc.) she and her party could do to keep her in office no matter what investigations show or convictions occur and you can bet they will trample the constitution and destroy the government as we know it to keep power over your lives. Just look at how Obama has kept himself from being impeached. He has cronies running every government department which he uses to conduct unlawful activities and has deals with his cronies that he will never allow them to be prosecuted (Holder, Hillary, Lerner).
The number one reason that you will be sent to a FEMA camp? Political dissent. Hillary Clinton will go down in history as the FEMA Camp President.

What do you imagine happening at a Hillary Clinton FEMA camp? One thing's for sure there will not be any emails allowed.