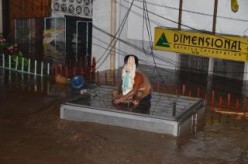 My hometown in the Philippines was totally wrecked by the Typhoon Washi. The typhoon left a trail of now-decomposing bodies. Around 500 people died and hundreds are still missing. Among the 500 was my mum's friend (still missing) and the friend's family whose bodies have been washed out and now found. It only took half an hour for an ankle-deep water to rise 11 feet.

Since my family and I are in Singapore, we can just hope for the best for those who were left behind. They need relief and prayers to overcome this ordeal.

The photo I uploaded shows a boy on top of a van, submerged by the rapidly rising flood water, clutching Mama Mary.