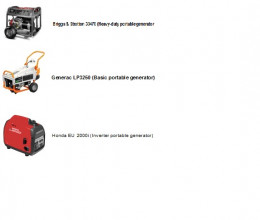 Reliability matters

Generators are typically sold by wattage. How much they put out determines not only how many lights and appliances you can run at once but how well they run. For example, a refrigerator often requires about 600 watts, a portable heater 1,500 watts, a window air conditioner 1,000 watts, and lights 60 to 200 watts.
"Batteries not included" applies. Several portables offer electric starting. But the battery required for that feature usually costs an extra $50. And if you think all portables have wheels, think again: They're a $150 option on one model we tested.

Some slipped when demand surged. All of the tested generators met their basic wattage claims. Manufacturers also make higher surge-wattage claims for the extra power needed when fridges, air conditioners, and pumps cycle on. Subpar surge wattage lowered the power-delivery scores of some models in our tests.
Some can overheat appliances. Our power-quality test judges the ability to deliver the 120 volts that home circuits usually need. Most met that challenge although one model was more than 10 volts shy under a heavy load and voltage from another was also low--and slightly uneven. Both conditions make motorized appliances and some electronics run hotter.

Best Portable Generators for Home Use:

Honda EU 2000i (Inverter portable generator)

The Honda EU2000i can't power an entire house full of appliances, but owners say it's perfect for tailgating, camping, or running a couple of small appliances or household electronics. It's also quiet, fuel-efficient and easy to carry by hand. Its inverter technology produces consistent, surge-free wattage, making it safe for use with TVs and computers.


Briggs & Stratton 30470 (Heavy-duty portable generator

The Briggs & Stratton 30470 is powerful enough to start and run almost anything in a large house, including multiple appliances, sewage pumps and consumer electronics. Despite its size, this portable generator is fairly easy to maneuver. Like many large portable models, the Briggs & Stratton is relatively noisy, but owners say that's a small price to pay for reliable, surge-free electricity.


Generac LP3250 (Basic portable generator)

Owners say the Generac LP3250 portable generator can run most essentials in a small house. It's relatively quiet, lightweight and easy to maneuver, and refueling is as simple as swapping propane tanks. Users report only one important drawback: Customer service could be better.