sort by best latest
LittleMissIowa has some good points. And, yes, withouut an in home visit by a behaviorist, there is no way for us to know the root cause. I would add one more quick thing, though. A sudden change in behavior can be medically induced. If it continues, I'd give a quick visit to the vet for a health check up. Rule out all sorts of causes like UTI, constipation, fever, or tick borne illnesses.
BTW, this summer - because of the warm winter - some parts of the US are having a MUCH worse tick season. Dogs are getting tick borne illnesses at a huge rate. If you don't catch them early, they will become chronic and life threatening. You can even think your dog hasn't been bit by a tick and still have issues. (It has happened to me - not tick but my dog got erlychea).
Just FYI!
Agreed! Ticks are terrible this year. Living next to woods my Leonburger has had a total of 21 ticks on him. He's on Sentinel, has a tick collar and we give him frontline. Usually I'd consider this overboard, but anything beats lyme diease!!

---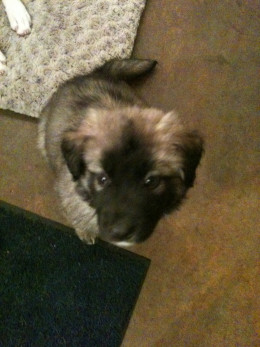 Without knowing your exact situation it's hard to diagnose the start of the issue. Something I've seen in puppies is, it does not always take physical injury to traumatize a dog. Some dogs react to situations differently, like being left alone for too long. Not having enough bonding time, or skin to skin contact with their owner. Dog's are herd animals and instinctually need socialization to mature into the all around "good dog" that we all want.
Certain stresses can cause a timid puppy to become an unbalanced and sensitive dog around specific environments and people. This can create a negative association with these things.
1. Try finding something your puppy really likes, treat wise.
2. Teaching a puppy tricks at a young age instills in a dog that discipline is fun and rewarding.
3. Keep it consistent. Dogs appreciate consistency ie: daily walks, waking up at the same time, rewarding all good behavior, and nipping bad behavior as soon as it starts.