sort by best latest
I'm really not here to answer the question but to express how much that pic completed my day. Funny one! haha
I picked Duke last year, and man did that suck when they lost so early.
No clear favorites this year. I'm going to wait a little while before I do my bracket. Big games today including Miami at Duke. I wouldn't be all that surprised if an unranked team got hot, made a big run, and won it all.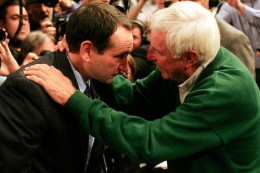 Coach K has been running Duke Basketball flawlessly for more than thirty years and has been personally selected to defend the honor of United States Basketball in more than one occasion. He conducts interviews, after a win or a lost, with the same gentleman's dignity.
Personally, I feel that his greatest accomplishment to date is the fact that he has been able to remain friends with that sociopath, Bobby Knight for all these years.