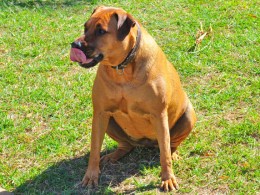 Hi afriqnet - Dr. Joe! Thanks for your answer. You're of course a pro in this field

. Have you actually ever had a Spanish Alano as a patient?

K9keystrokes, Hi. You seem to know a lot about this breed! Thanks for your info. Here is a second photo of Betsy, she is most sweet, cute, friendly, loyal, well-behaved dog I've ever known. Pity, she was only a friend and visitor. She was moving freely between her property and the place where we were (my friend and I) living. She has preferred to be with us, but were showing her every day that she belongs to her owner :-| (we were bringing her to the road and showing her,that it's time to go home now), though we were deeply considering to 'steal' her. We would never do it, but I have to admit, my thoughts were playing with this possibility. Especially because I know that, she loved my friend and me really very much.... :-( A sad story.