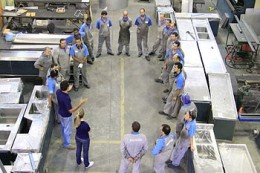 That's a tough question. In my view, the most important trait is the ability to inspire trust. If a leader is not trusted, then he or she will be a liability rather than an asset to the team.

Trust is established and maintained with the following traits:

(1) Honesty -- managers need to tell it like it is and provide accurate information. It's ok to say that you can't talk about certain topics or can't disclose certain information but managers shouldn't lie.

This is probably the most important factor in being a highly respected manager and establishing trust.

(2) Strong Communicator -- managers can only be successful if they are clear on setting priorities and presenting pass-down.

(3) Takes Responsibility -- managers need to set priorities, take responsibility for schedule slips, and employee issues.

(4) Values the Employees as Individuals -- from what I understand, the number one predictor of job satisfaction is the relationship between employees and their boss.

Employees do better when a boss meets them half way.

(5) Productive -- employees respect managers that add value. If a manager doesn't do their part or doesn't clearly add value, then team may start to resent them a bit.

(6) Good at Removing Obstacles -- finally, a great manager is one who can remove obstacles. Do they make it easier to get work done and do they prevent interruptions from upper management?

(7) Patience -- managers who can remain calm, clear, and can actively listen build stronger trust over time.


Off the top of my head, these are 7 traits that I have found to establish high level of trusts between managers and their employees.