Squidoo dropped further. HP stayed about the same.

Not really what I was hoping for to be honest.

I suspect, looking at traffic patterns over the last year, as Google have tried to shaft both HP AND Squidoo - they will now think it is about right.

ie. we are both dropped down the rankings.

The blue is HP, red is Squidoo. It makes no real difference - we have ended in more or less the same place. I believe the year long scale shows how Google have manipulated the search algorithm to hit both sites equally.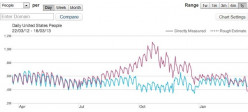 It's tough over in Squidland at the moment. Same as it has been here. So not a time for celebration I think - more of a shared ouch.