Hello fellow hubbers, hope you all are doing fine!!
Over past few weeks i have noticed a few changes in the hubs format, while the sharing buttons have gone down (which is a big letdown) I have also seen one more ad coming on the extreme right hand side apart from the google adsense ad.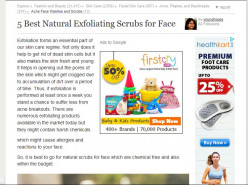 I hope this new ad is good from earning point of view, but now i just wished to know from HUB PAGES and the Fellow Hubbers: is it good to have two ads on the same side? As you can see in the pic, one ad is of 'first cry' and the other of 'health kart'. I am pretty sure, none will click on two adjacent ads at the same time, so please tell what needs to be done in such a case?