I read that there is going to be a full roll out in July and that select Adword accounts were getting first looks. I guess I was selected. I should start reading those Google alerts I receive...

The navigation of the Keyword Planner is different but works like a wizard of sorts. It's geared more towards advertiser instead of publishers and content marketers.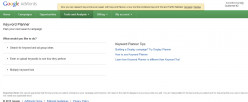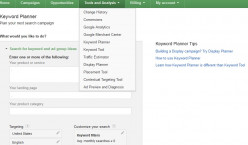 The above images are pretty small, but on the landing page you can search for keywords or ad groups or upload keywords to see how they will perform at certain PPC levels.

Searching for keywords, you can select a phrase or a competitors website to see what they are targeting (something that has always been available but under used)

Once you select a phrase, you can then select between ad groups or related keywords.