In the Edit mode, click on one of the photo capsules to edit.

There, make sure the "Don't display this capsule" box is NOT checked. If it is, just click on the check to remove it, save the capsule, and click on the "Done Editing" button at the top of the Hub.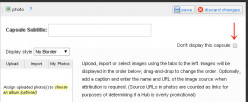 Then, refresh your browser and look at the Hub.