Hi,

I recently reported a bug with the "More By" author feature on the right side bar inside hubs, where my hub for herpes had a "More By" of Barbie movies and this didn't seem right with topic choice.

I thought of some great suggestions for the More By feature, which would improve reader engagement, help on page SEO and keep authors happy with promotion of their own hubs, while simplyifying and amplifying the effects of Related Hubs at the bottom.

Suggestions:

1. Can the "More By" links be random links from within the same group/topic as the originating hubs, so they are relevant? This would help instead of hinder our reputation as serious writers and help with SEO too, I suspect, by having relevant synonyms featured instead of unrelated material.

2. Can the "More By" sidebar include 3-5 links to promote the topic and author better?

3. Can the "More By" sidebar move down the page as we scroll down the hub, so they aren't just at the start of the hub?

4. If all of this is implemented, we could then remove the author's related links at the bottom of the hub, which really doesn't help the author as much as the sidebar would. It would also help clear up the presentation of the page down the bottom and assist with HP's Related Links being a bit more prominent too.

Here's my diagram of suggestions;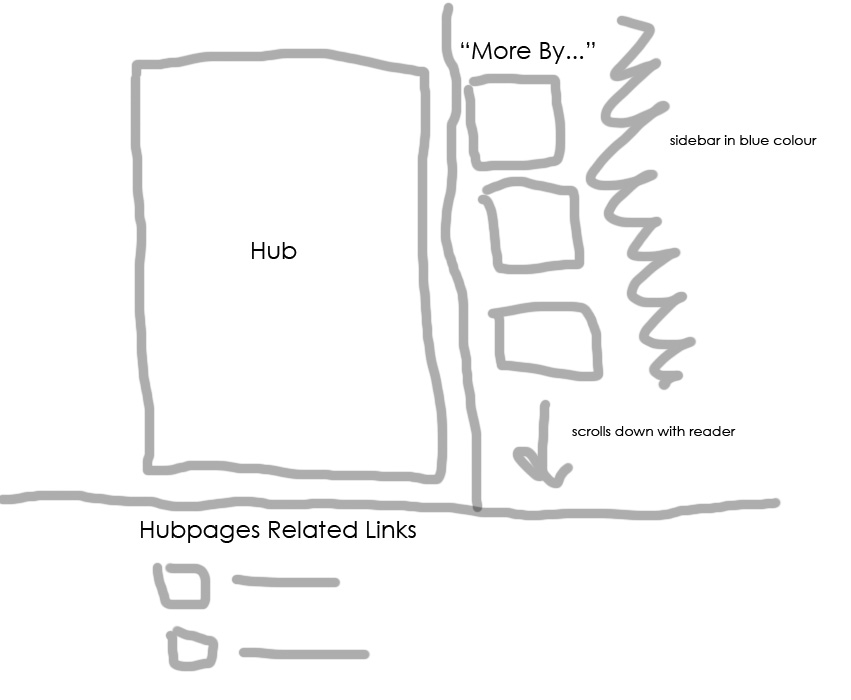 These suggestions could be VERY beneficial to Hubpages.

Firstly, the use of more synonyms to the topic matter will present in the "More By" links and enhance the SEO of each page. As hubbers can see their work is being clearly promoted, they'll be far less inclined to have their own little related sections and links at the bottom of hubs.

Secondly, the reader can clearly and quickly decide if they want more by the same author, or something different, by clicking to one of the two areas for links on the page (see diagram).

Thirdly, the reader is being presented with lots of relevant links and can pick the most appropriate one to read, all in the same place instead of scrolling up and down the hub.

This would only work well if authors could see quite a few links in the "More By" promoting their work and the sidebar scrolled with the viewer. Otherwise, authors will be annoyed at giving away link juice down the bottom to HP with minimal publicity for their own writing.

The idea is not to be protective about what gets publicity, or to promote some things above others, but to give readers a very clear choice about what is available to read (the Google theory). I feel it would also keep readers on Hubpages longer, as they are more likely to find what they want to read next if they can be clearly presented with choices that make sense, rather than the current clutter.