Quite a few of my hubs switched to unfeatured due to traffic recently, but I'm puzzled as some have traffic numbers that seem reasonable to me.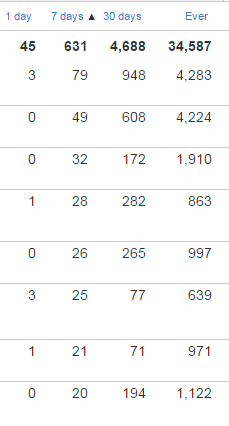 When it considers a hub to have low traffic, is it looking at 7 days or 30 days? You'll see some of mine have several hundred visitors, one with almost a thousand, in 30 days. That seems like enough to keep it featured.

The total visits (column labeled "Ever") are for 7 months and these hubs have shown good traffic over that time.

This makes me wonder if there are other factors than just the sheer number of visitors. Could it be where the visitors originate? Are some visits (from Pinterest, Facebook) deemed less important than ones sent by Google?

Please share your insights and thoughts on hubs with decent traffic being unfeatured for "Traffic."