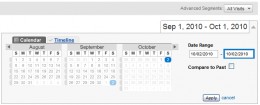 In addition to Morson's explanation of the difference, there are some technical differences as well. 100% of your visitors are tracked in Google Analytics, but your AdSense account is only used for 60 out of every 100 visitors to your hubs. The remaining 40% of AdSense impressions are taken by HubPages and affiliates, such as the person who referred you to HubPages, and the owner of any tracker link that a visitor clicked.

That means that you will always see about 60% fewer AdSense impressions than Analytics pageviews.

Finally, AdSense shows today's data while Analytics by default shows 1 month of data starting at yesterday. To see only today's data for better comparison with AdSense, click the date range dropdown, click today's date, then click Apply. Or to choose a different date range, first click the date in the past (e.g. September 21) then today's date (e.g. October 2).