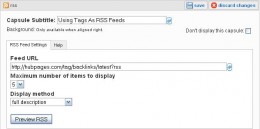 You can hit ALT + Print Screen to take a snapshot of the window which is currently active.

Open Paint or another graphic editing package and hit CTRL + V to paste the snapshot into the program.

You can save the picture as a JPEG file and upload the picture into your hub photo module.

The alt print screen action can be more effective if the window you want a snapshot of is relatively small, a popup for instance. I used the action to get the picture attached.