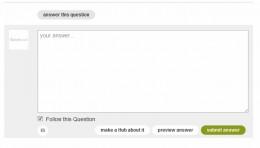 When you answer a question, as long as you do it by looking at the question in full, rather than the preview mode you get on your Hubpages Home page, you'll see that there is a "Make a Hub about it button" (see attached image). That, I believe, links your hub in as an answer.

If you write an answer, and then separately later want to write a hub about it, you can't then add a link, as you can only answer a question once, and I believe you are not encouraged to place links to hubs within answers anyway, though I'm not clear why. To stop fake questions as ways of promoting hubs, I expect.

You can't edit answers after 10 mins either, so if you want to write a hub as a linked answer, you need to do it at the stage you decide to answer the question.