I'm not quite sure when I became aware of it, but if you google your name, there is a box on the right and side that opens up and asks you to put your name and details in it. I'm wondering who has done this and how it has affected your traffic.

This is how Google explains it.

I've posted a snapshot of what it looks like.

Also, if you search for me on a phone, a panel comes up that says I'm an author, plus a link that you can click that says 'follow me.'

This appears to be a new thingie that Google is doing for writers.

I have some questions.

1. If you are using it, has it increased your traffic?

2. When people click 'follow me,' is that something like Google alert. Every time you publish something, the person is notified, or every time something is written about you, someone is notified. I found that out when someone googled me and I didn't know what he was talking about.

3. If one fills in the knowledge panel, what are the chances that one will regret it at a later point? This is what worries me.

4. Promisem posted a very intresting link to an article about the defunct authorship. Has this replaced it?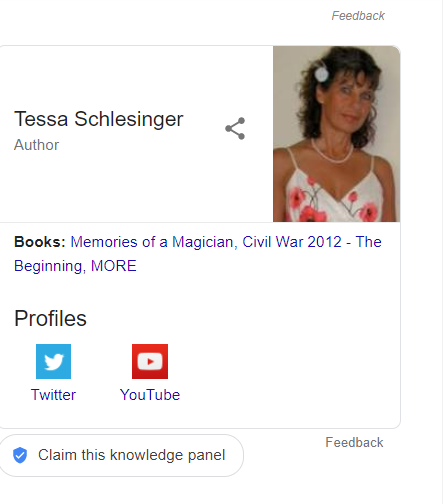 Thanks.