I'm sure there are money-making opportunities on older Hubs that have a decent score, traffic over time, evergreen content, and seasonal appeal (other than the classic Christmas, Valentine, Halloween seasons), but it hasn't been my focus to make money from my Hubs, so I thought I'd throw this data out to you to do with what you will. This Hub is now in its third year, and apparently it's a big hit starting in late July.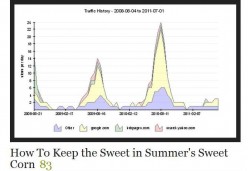 I hadn't looked at the stats for this Hub in a long time, and then the stats graph caught my eye today.

I'm thinking if you are like me you are not paying too much attention to peaks and valleys of traffic over time, but paying attention could give you a money-making opportunity.

I'm probably preaching to the choir here, but it was an eye-opener for me. Hope this is useful to some of you.