Hello there!

I had an interesting idea for Hubpages just now, as I was checking my hub list. What if there were a way for the system to automatically count how many hubs you have with under X amount of views in the last 24 hours (where X can be any number you choose) and tell you?

To illustrate, here's a before and after photo (top is before, bottom is after):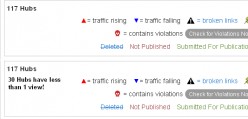 It would personally be a help for purposes of determining how many Hubs are not "contributing to the cause" as it were.

(I just realized I have a bunch of Hubs with under 10 views in the last 24 hours, and manually counting them is crazy, to say the least!

)

Thanks in advance for your time!