My work has been stolen and I would like to get assistance in closing down the website that has ripped off all of my blogs. They have horrible running adsense advertisements that do not go away, but ten flashing other ads making them money. Plus they have the gall to also have a DONATION button that they should earn money for the work of others. Please point me in the right direction and if anyone wants to help me, it would be gratefully appreciated.

I was going to post the on the QUESTIONS/ANSWERS section but didn't know if had already been asked and answered.

So, I posted it on front main page stream under FORUM. Then it disappeared and I don't know where it went?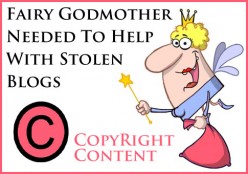 I would have posted the offending website, however, I don't want them to earn any more hits and money by doing so.