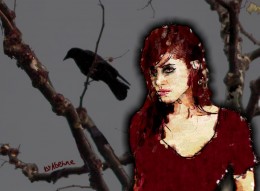 Taken from hub (link below) on Celtic Folklore (these associations are quite common generally also):

"The Crow and the Raven seem interchangeable in Celtic lore. The hooded or scald-crow (Badb) is often translated as raven in connection with goddesses. The Morrigan in particular is associated with these birds, sometimes referred to as 'stalkers of the battlefield'.

They relate to magic, prophecy, underworld messages, destruction and healing. In Scottish folklore, the crow is said to have 27 different cries, each for a different event. Only the wisest seer of the land can understand their words when a molmacha, or flock of crows, are in full cry together. Their behaviour, too, is used in divination."

There is more there on the crow and on other birds and animals - you may wish to have a look:
http://hubpages.com/hub/Celtic-Folklore-Animals
http://hubpages.com/hub/Celtic-Folklore (more on the Morrigan)

Ravens are also part of Norse mythology, Odin having two that are Thought and Memory. Another hub I must write one day!