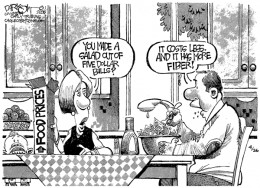 The problem is that some corporations are working very hard to have the world's complete world supply under their control by all possible mean, creating also engineered shortage to let believe in a crisis that would justify their view about population reduction, their view to implement genetically modified food, manufacturing of water, all this at exorbitant prizes. Yet, you can produce your own food, your own water, your own electricity, bottom-line ... prepare yourself in a manner that will put you off the grid and not have an issue because the social system created a scam to raise prizes and low the standard of living. If you don't believe what I say, make your researches about Codex Alimentarius, Agenda 21 and re-check your question on whose food supply we might supposedly run out ..ours or theirs ... ?! It's not a question of being in a communist, socialist or capitalist system. No matter what system we will or would be in, the plan remains basically the same. The issue isn't in capitalism, it isn't there at all. It's about politicians and corporations taking over things of our business that should be none of their business.
Something that's not right is going on right now as we speak and since a few decades already and people unfortunately aren't aware enough about it as they do not question the system they are living in and trust blindly the laws that are implemented on such issues like food productions and what say the population has or has not on it, even in their own backyard ...
When you start to see what's going on after reading what has been implemented black on white through laws or is still on its way to be implemented, then it will really piss you off that you didn't see that coming. It's out there and not theory, trust me!

The best way to have/make accurate predictions is by planing them on your own in a 1st place.
That's the point.