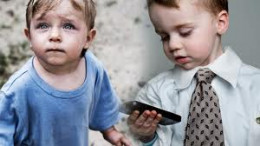 All the answers are excellent. Children in small families FARE better than children in large families in so many ways, especially intellectually. Children in small families interact primarily with their parents. As a result of being in a primarily adult environment, children in small families absorb and learn adult language at a young age. This makes them have more advanced vocabularies and a high level of articulation.

Children in small families are also exposed to more cultural and intellectual activities as it is encouraged, expressed, and expected in the small family environment. Also there is more monies allocated per child in the small family and such is spent on enrichening educational activities which aid in a child's language, intellectual, and articulation skills. There is also monies allocated for books, computers, and other intellectual paraphernalia.

Children in large families have little or no parental interaction. They are left to their own devices, raising and fending for themselves. As a result of interacting with other children, they have rudimentary vocabulary and less developed articulation skills. A study done by R.B. Zajonc substantiated that the larger the family, the less mature and developed the intellectual environment is. He confirmed that on IQ tests children in small families scored HIGHER than their counterparts in large families. In my elementary and high school, chilidren in small families were the smart ones and on the honor roll whereas the children in large families were at the bottom or near the bottom of the class and had to attend remedial and summer school.

Another factor in their rudimentary vocabulary and less developed articulation skills is there is no intellectual stimulation in the large family household. Since large families are impoverished or near it, there is no monies allocated for things beyond food, clothing, and shelter, if that. There is NO monies for intellectual and cultural activities including books, computers, and other educational paraphernallia. Many children in large families are not encouraged to achieve intellectually; they are encouraged to be anti-intellectual and to adopt a very basic and instinctual approach to life. They have a poverty mentality and consciousness which values mere survival over more higher forms of achievement.